Knoxville Tennesseess….Tenessesse….Tenessesse…TN – Yee-Haw Industries
So before you can say "y'all come back" my week at Yee-Haw is almost over and I have been so busy I haven't had a chance to make any posts this week. I have however been filling my week with fun things, for the sake of brevity I have split this weeks posts into two – one on Knoxville and one on Yee-haw.
I arrived via Greyhound (my second so far) on Saturday evening from Nashville, and was feeling a little worse for wear. The Greyhounds here can be a bit hit and miss – every time I'm at the station I see a fleet of the brand new buses with wifi and big comfy seats, these always then pull away to reveal my crappy one – sans wifi and sans big comfy seats, but normally with a full contingency of crazies/normal decent folk driven crazy by the conditions Greyhoud make you put up with. Greyhound have a frustrating tendency to, as far as I can tell, over sell tickets and then just try and deal with it if anything bad happens so it's common to load your bag in the hold, queue up, get on board and then find there are no seats. Thankfully this hasn't happened to me yet, if it does their front desk will feel the full scorn on a polite englishman who has been wronged. On my bus from Memphis to Nashville the week before I did sit opposite a big, fat man who kept pulling his t-shirt up, rubbing his belly and then shouting "WEEEEEYOOUU!". I'm sorry America but some people are really letting the side down. Anyway, back to Knoxville. Greyhounds Stations have a tendency to also be in odd bits of the town, far away from things of interest. Arriving at around 7pm I had a hour to kill until I could get into my hostel (the owner was at a football game). Given the option of turning left or right out of the station I chose left due to seeing some signage I wanted to photograph (don't judge me – you're the one reading a blog about a letterpress research trip) and as luck would have it that led me into the area of town called "Old City".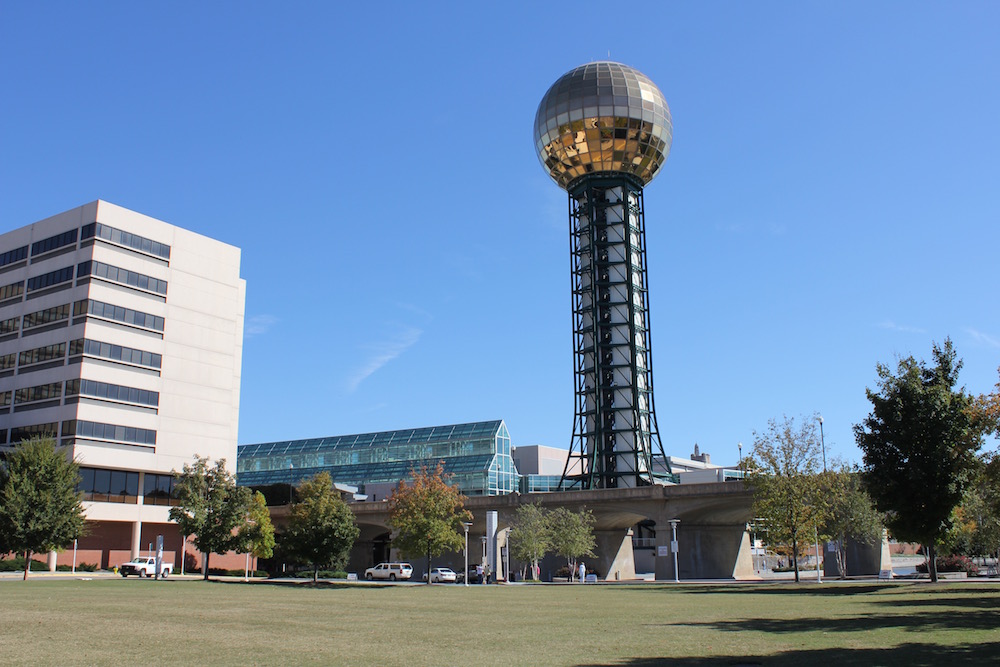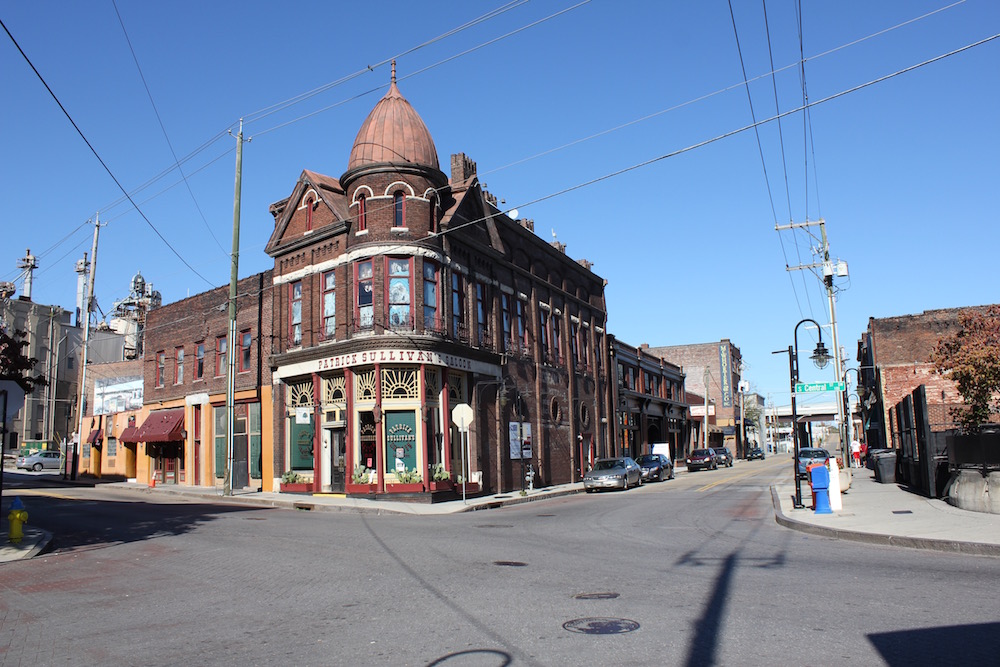 I hate to use this term but Knoxville has a really good "vibe", arty and liberal without being too hip and disingenuous. In the Old City I found a nice coffee shop (where I'm in fact writing this now) and dug in there for a hour. In a rather fortunate stroke of serendipity my friend Owen Richards was also arriving in town tonight with a group of friends who are road tripping east to west across the states. So at the allotted time I arrived at the hostel, met with Owen and the others and headed into town. Calzones were eaten, root beers were drank and wander round town was had.
Sunday morning and the others left to get to their next destination whilst I departed for town and the promise of a morning latte. After getting a brief…actually not all that brief introduction from the hostels owner (turns out he used to be a tour guide) I was reminded of the Sunsphere in the town centre and it's roll in a particular episode of the Simpsons . No wig store sadly but an abundance of sun and grass to idle on.
On the way back to the hostel I passed by Yee-haw and ogled their goods through the window and made a mental list of ways I could abuse my bank account in the store.